Four great dominoes games for Windows. Play the games against the built-in computer opponents, or play over the Internet against other people. Try the free demo version of the game, then when you buy you can just enter your registration codes, and not need to download again.
New: I've just updated the games to a new version. You are now able to choose larger domino sizes, to work better on modern displays with high resolution, plus general updates and bug fixes.

See an animated screen shot of Win42.




Plays the game of "42", which is a bidding-type dominoes game similar to bridge, spades, or pinochle. The computer plays the positions of three players, and you are the fourth. It also can be used to learn the game by suggesting plays, and explaining the reason for its suggestions. Included are the ability to play Nel-O and "sevens".


See an animated screen shot of Dominoes for Windows.




Lets you play the traditional game of dominoes, where you line up the tiles and try to make the ends total a multiple of five. You can play two, three, or four players. After you purchase the game, you will also receive a free version of this game played with double-nine dominoes.
---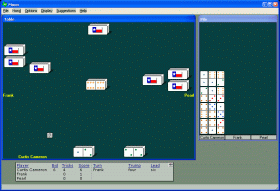 WinMoon
Like a three-handed version of 42, but more competitive. It plays a pretty good game and is fully capable of play at the lobby. It's available at the download page.
Rated
five stars by the ZDNet Software Library.
Read their review of the games.
---
See comments from people who have played the games.




Read my blog on 42 and dominoes. I'll write up articles on the game, mostly on strategy. You can read, follow the blog via email, and post your own comments.


---
PalmDominoes
The newest addition - PalmDominoes plays on Palm OS palmtops.

Palm42
Palm42 plays 42 on Palm OS palmtops. Version 1.18 is out.



---
Looking for a gift for that dominoes player you know? How about a gift CD mailed to that person, with the three games described here, customized for them? Read more about it.
---
Other Dominoes-related sites:
---
Back to top of page
Questions or comments? Send me mail.

Updated 20 March 2011